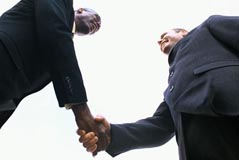 Careers with us; can you think big?
Senior Software Engineer
The primary role of the Senior Software Engineer is to contribute to the realization of software and/or hardware prototypes of new concepts in the field of cryptography and information security. At least 5 years using C and Java languages. Must have prior experience with cryptography, certificates, PKIs, and related security algorithms and protocols. Some J2EE experience would be useful.
More...
Technical Writer
Plan, write, and edit a variety of documents on technical issues and software specifications, ensuring accuracy, consistency, format, completeness, spelling, punctuation, capitalization, and syntax. Work closely with software development teams to research, plan, write, and update our product documentation. Participate in the specification and testing of software.
More...
Accountant
Ability to perform technical accounting research. Demonstrated ability to perform complex accounting and financial analysis and communicate results and recommendations effectively. Strong verbal and written communication skills required with all levels of employees. Position also requires a well organized person to follow up on problems and track reports at different levels of completion. Bachelor's Degree in Accounting and 5 to 8 years of job related experience or the equivalent combination of formal education/training and experience. CPA required, relevant Master's degree (MBA, MS Finance) desirable.
More...
Customer Care Manager
Manages customer care department to include customer satisfaction, oversight of the majority of company-wide training, technical service, customer care and ensure integrity of the quality system, including, but not limited to complaint registration and handling. Manage staff and resources to deliver superior customer technical support that results in positive customer retention and customer growth and revenue.
More...